Communicating through Dementia and Alzheimer's
Guided Meditation CD or MP3 Download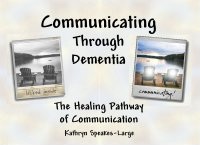 The Communicating through Dementia guided meditation is the same method Kate used to connect with her grandfather's Higher Self.
The first track, Communicating Through Dementia, is information to aid in setting the intention to connect as well as what to expect during the communication.
The second track, Guided Communication Through Dementia guides you to elevate your vibration to more easily connect with your loved one's Higher Self. You will ask permission to connect, then continue when you receive a yes. Once the connection is made with your loved one, a few minutes of time is given to chat.
If you or someone you know has a loved one who cannot physically communicate because of Dementia, Alzheimer's, coma, etc. please share this information with them.